I hope you have enjoyed reading the tales of lock-down.
If you haven't read them, want to print or share them, they are available for download!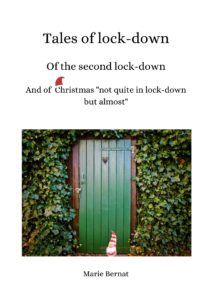 The PDF version is great to print out:
The tales of lock-down – a collection (M. Bernat)

The EPUB version is for e-readers (except Kindle) and various e-book reading applications – such as (Google) Play books:
The tales of lock-down – Marie Bernat (epub)
The MOBI version is for Kindle, amongst others, but not on the Kindle app on phones:
The tales of lock-down – Marie Bernat (mobi)
There might be formatting problems, or others. I apologise, this is the first time I do this.
For those interested: I used Writer (Libre Office) to write and export in PDF format, and Calibre for the EPUB and MOBI versions.
The cover was done on Canva.
I wish you all soft and gentle holidays, as much as possible.